BARC MINI Festival
From £18
The BARC MINI Festival at Croft Circuit
A Two Day Race Meeting from the BARC
All things MINI
Children 15 and under go free
You will receive your tickets by email. Please note that we will no longer send out tickets by post.
CHILDREN 15 & UNDER GO FREE
Children 15 and under are admitted free of charge, provided they are accompanied by an adult (max 5 children per responsible adult).
Buy 750 Motor Club Tickets
TICKETS
All tickets are sent by email to the email address used to purchase the e-tickets. Please keep an eye on your junk/spam folders. If you have ordered your e-tickets and can't find them, please call the ticket office on 01325 721815, and we will try to help you.
Yes, you can buy tickets at the gate on arrival. However, we advise purchasing tickets prior to the event to avoid additional queues.
For the fastest access in to the venue, we recommend that you print your tickets.
You can also show tickets on your mobile phone, however, to avoid delays we recommend downloading and saving these to your device.
Unfortunately not. Tickets are available to purchase in advance - for the quickest way into the venue. Alternatively, tickets can be purchased at the gate on arrival.
For club race meetings grandstand seating is included in the price of the admission ticket on a first come, first served basis.
For the British Touring Car Championship meeting, grandstand seats must be purchased for an adult and for children separately in advance and are subject to availability.
Yes. Carers of our disabled guests may be entitled to free admission to this race meeting. This must be arranged in advance. For details on how to apply click here
EVENT INFORMATION
Unfortunately we are only able to offer camping to competitors. Spectators are not allowed to camp at the circuit.
For club meetings children aged 15 and under are admitted free of charge. For the British Touring Car Championship meeting a teen ticket, children aged 13 - 15, must be purchased. Please see the individual ticket prices for each event for full details of concessions available.
Parking is free of charge.
Opening times vary according to the meeting. At most club race meetings the gates open at 09.00am on Saturday and 11.00am on Sunday, but be sure to check the information page for each event to confirm.
The last race/event will finish no later than 6.30pm.
CIRCUIT INFORMATION
Please contact the circuit office on 01325 721815
We have a parking area for Blue Badge holders close to the spectator banking alongside the straight after Hawthorn.
If you have lost any of your property please report it as soon as you can to reception in the main office building.
In the event that a child is found to be lost within the circuit, they will be taken to reception in the main office building where CRB checked staff will care for them until they are reunited with their parent/guardian.
The medical centre is next to the grandstand and there is a mobile first aid team present at each race meeting. If you have a medical emergency please inform the nearest member of staff who will summon assistance.
Croft is an active race circuit and as such we have a strict no animals policy on site.
We reserve the right to use any means possible to free any distressed animal found to be locked in a vehicle anywhere on the site including in the car parks, and give them into the care of an animal charity.
There are baby changing facilities situated in the new toilet block in the paddock, or inside the main office building.
FACILITIES INFORMATION
Croft circuit is one of the most challenging tracks in the UK. It is also one of the longest at 2.1 miles / 3.36 km per lap.
We have a good choice of outside catering units for larger events
A map of the circuit is available here: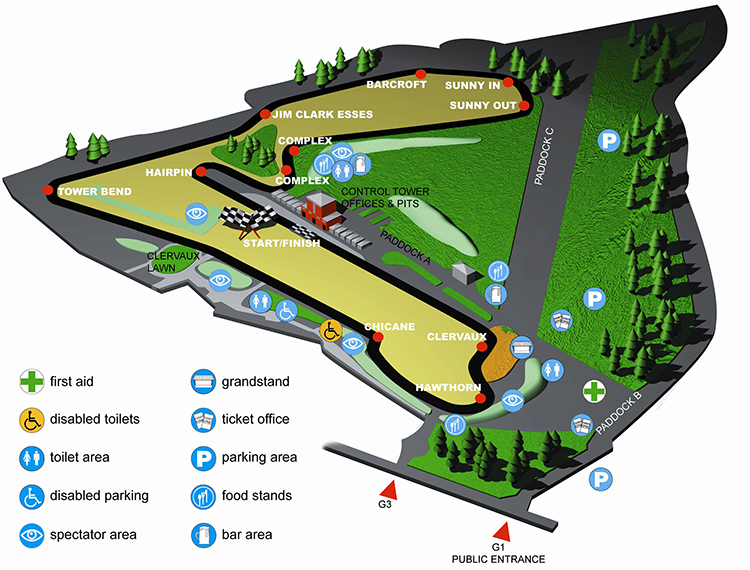 MORE QUESTIONS?
Can't find what you are looking for? Maybe the general FAQs will answer your questions.
VIEW MORE FAQS